Susan Andersen, Founder and Executive Director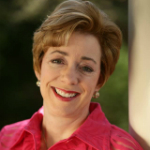 Susan Andersen is founder and executive director of the ANSWER Scholarship. She has received wide acclaim for her vision of a scholarship fund that would help mothers earn college degrees and achieve a better life for their families. Andersen has led ANSWER's growth since its founding in 2006, including its Mentors for Mom and new Professional Development programs.
The Charlotte Observer's editorial board has honored Andersen in its annual salute to leaders whose good works enrich our region. Andersen is also the recipient of the Heart of Grace Award from Pfeiffer University, presented each year to a woman "whose life and work embody a spirit of service in her community and the world."
Susan Andersen has been profiled in the Saturday Evening Post. She has been featured or quoted in many local media outlets, including Time Warner Cable News, WSOC-TV, WCNC, WTVI, WJZY, The Charlotte Observer, The Charlotte Business Journal, WBT, and others.
Andersen holds a B.A. in Business Administration from UNC Charlotte. She is married with two children: Emily is a 2012 graduate of Auburn University and David is studying for his masters in aerospace engineering at Georgia Tech.
Noelle Bell
Noelle Bell is a communications manager at Bank of America, promoting corporate social responsibility. Programs include women's initiatives, lending and investing in low-and moderate-income communities, and community development financial institution investments including affordable housing, small business, environment and economic development. Bell holds a bachelor's degree in communications from the University of New York at Oswego and a master's degree in liberal studies from the University of North Carolina at Greensboro. During her free time, she enjoys traveling, photography and hiking with her dog, Hazel.
Debbie Bouton
Debbie Bouton, Ed.D., has worked in higher education for more than 20 years and currently serves as associate vice president for learning and workforce development at Central Piedmont Community College. In this role, she provides oversight for professional development, distance education, and hiring and credentialing of faculty. She also serves on the college's strategic planning committee. Dr. Bouton received her bachelor's and master's degrees in psychology from UNC Chapel Hill and her doctorate in educational leadership from North Carolina State University.
LaQuisha C. Brown
LaQuisha C. Brown is a communications consultant with Wells Fargo. She writes and creates communication campaigns. Brown holds the Certified Retirement Services Professional designation from the American Bankers Association. As a full-time student and working mother, Brown earned a bachelor's degree in sociology from the University of South Carolina – Columbia in 1999. She is married and the mother of three daughters, including a college freshman.
Mary Beth Collins
Mary Beth Collins holds bachelor's and master's degrees in sociology and taught adult students at Central Piedmont Community College for over twenty-five years.  She led the Behavioral and Social Sciences Division and served as Executive Assistant to the College's president where she was responsible for institutional effectiveness and strategic planning.  As a volunteer with United Way for over twenty years, Collins chaired the Adult-Child Protection Council and served on the Community Building Task Force.  Currently, she volunteers with The Echo Foundation which promotes compassion, justice, and ethical decision-making.
Lu Ann Driscoll
Lu Ann Driscoll was born and raised in Morgantown, West Virginia. She is a graduate of the School of Computer Technology in Pittsburgh and worked for West Virginia University for more than 12 years. While working at WVU, Driscoll attended WVU part-time until moving to North Carolina in 1986. She continued her studies at UNC Charlotte while working for Ingersoll-Rand Company. Now retired, Collins is active in the North Mecklenburg Woman's Club, a philanthropic group that supports causes in the north Mecklenburg and South Iredell communities. Collins is married and enjoys playing golf, trips to the mountains, exploring her creative side through painting and crafts, and snuggling with their golden retriever, Hank.
Bill Girone
Bill Girone has over 30 years of experience in the life insurance and financial planning profession. He is a Registered Representative, Registered Investment Advisor, and Registered Principal. Girone is President of The Girone Financial Group and a Sales Vice-President with Highland Capital Brokerage. During his career, he has held various sales and management responsibilities at Hartford Life, Securian Financial, and Merrill Lynch. Girone is a member of the Carmel Country Club where he sits on the Board of Directors. He and his wife, Kathy, live in south Charlotte.
Susan Harper
Susan Harper, Ph.D., is a business psychologist and human resources consultant specializing in leadership and professional development for Fortune 100, mid-market, government and healthcare organizations. Dr. Harper holds a master's degree in public health from Tulane University and a Ph.D. in organizational psychology from the University of Chicago. In addition to consulting, she has been an associate professor, teaching business students leadership and organizational behavior.
Ralph Jannelli
Ralph Jannelli had a 30 year career as a design engineer and engineering manager, primarily in the energy industry. For the past 15 years he has owned and operated his own marketing company. Jannelli holds a bachelor's of science degree in electrical engineering from New Jersey Institute of Technology.
Sherry Marshall
Sherry Marshall is an experienced project manager and process design analyst with over twenty years in the financial industry.  Currently, she is a consultant for Wells Fargo and earned a bachelor of business administration degree in Marketing from Radford University.   Marshall started volunteering for ANSWER in 2015 by serving on the Personal Development Committee.   Previously, she has served as the Treasurer of her Homeowners Board of Directors and as a mentor for the Big Brothers/Big Sisters program.
Shambra Pearson
Shambra Pearson is a financial consultant with the Wholesale Bank for Wells Fargo where she is responsible for budgets and forecasts. Pearson has 20 years of experience in finance and accounting roles along with nine years of experience in the banking industry. She earned her bachelor of science degree in Business Administration from Florida A & M University, in Tallahassee, Florida. In her spare time Pearson enjoys spending time with her daughter.
Danielle Peoples
Danielle Peoples is an environmental communications consultant at Duke Energy. She is responsible for developing and implementing communication strategies to support events and activities related to the company's comprehensive coal ash management strategy. Peoples earned a bachelor's degree in environmental studies from Wofford College in 2011, thanks in part to an endowed scholarship. She is a member of the leadership team for Duke Energy's Leadership Development Network and a graduate of the E4 Carolinas Emerging Leaders program. In 2015, Peoples was named one of the Charlotte Business Journal's Emerging Energy Leaders. She has been excited to help implement ANSWER's professional development workshops.