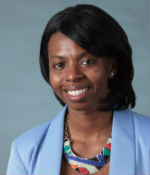 Teena Allen
Teena Allen is enjoying a career in social work following her graduation from Winthrop University with a bachelor's degree in social work. She made the President's List for her 4.0 grade point average, received the BSW Field Excellence Award, and was selected for NEW Leadership South Carolina, a residential program to give college women the skills to become leaders in politics, public policy and public service. Allen is currently an outreach and enrollment specialist with a local community health center.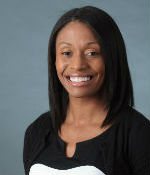 Jessica Burney
Jessica Burney graduated with a B.A. in Business Management, human resources concentration, from Pfeiffer University. She finished summa cum laude with a 4.0 GPA. She was also a member of Alpha Lambda Sigma and Phi Delta Sigma National Honor Societies. Burney works at ESPN as a scheduling coordinator. She plans to pursue a graduate degree in a few years after her youngest child starts kindergarten.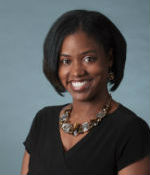 Kym Davidson
Kym Davidson graduated from Johnson C. Smith University in May 2016 with a B.S. in Criminology. She is pursuing a dual master's degree online in Criminal Justice Administration and Security (forensic psychology concentration) and in Information Technology (cybersecurity concentration) at East Carolina University. Her goal is to become a chief security officer upon graduation. Davidson also volunteers as a domestic violence advocate at Carolinas Medical Center.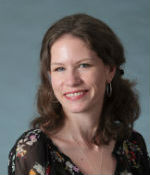 Margaret Drummond
Margaret Drummond graduated magna cum laude from UNC-Charlotte with a bachelor's degree in English language and literature, creative writing concentration. She is a team financial advisor at Merrill Lynch. Drummond also works as a freelance writer. Her twins are in their senior year at the Levine Middle College High School.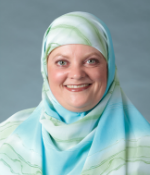 Annette McMullen
Annette McMullen plans a career in medical research following her graduation from Winthrop University with a B.S. in Biology. At Winthrop, she was a McNair Scholar, a member of the Beta Beta Beta Psi Biological Honors Society, and a member of the Tau Sigma Honors Society. She is continuing on to graduate studies in the medical laboratory science program at Carolinas College of Health Care Sciences. Her son, now in high school, hopes to study computer science in college.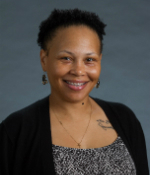 Natosha Stewart
Stewart earned a B.S. in Business Administration with a concentration in management from Johnson C. Smith University. She was also inducted into the university's honor society. Stewart plans to open a continuing education company for cosmetology professionals after her graduation.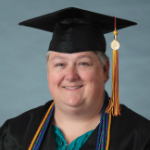 Amanda Cavin
Cavin graduated from Winthrop University with a B.S. in elementary education 25 years after she first enrolled in college. (The first time around, she dropped out after three semesters.) Cavin is now studying for her Masters of Education at Winthrop and working as a graduate assistant. She has been a role model for her entire family. Her son will study computer science at a local technical college, her husband is enrolling there for classes as well, and her oldest daughter hopes to attend a four-year college and major in music education. WTVI and The Rock Hill Herald both covered her inspiring story.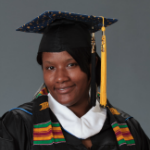 Michelle Cade
The Tom Joyner Foundation was among those who recognized Cade's achievement of earning a college degree as she worked and raised five children. Cade graduated from Johnson C. Smith University with a B.A. in Communication Arts. She plans a career in public relations. A profile of Cade in The Charlotte Observer attracted more than 4,000 Facebook "likes" and was one of the Observer's most memorable stories of the year.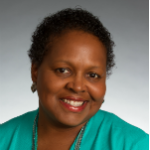 Charlene Edwards
Edwards graduated with a B.S. in Business Administration from Pfeiffer University. She is currently a lease administrator at Cato Corp. Edwards has two daughters.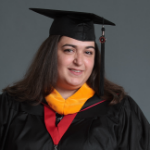 Leah Helms
Helms earned a B.S. in Accounting from Gardner-Webb University. She is employed by David N. Wurst, CPA in Matthews as an accountant, and is planning to take the CPA exam. She has three children.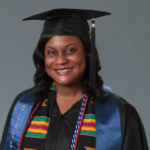 Kanetra Jamison
Jamison graduated summa cum laude from Johnson C. Smith University with a Bachelor of Social Work degree. She is currently pursuing her Master of Social Work with a concentration in health and mental health, as well as a Certificate in Drug and Addiction Studies, at the University of South Carolina-Columbia. Jamison has two children. WTVI featured her in a 2014 profile.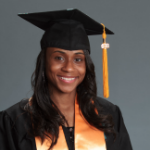 Daria Kearse
Kearse earned her associate degree in nursing at Carolinas College of Health Sciences. She is a nurse on a neuro-surgical unit at Carolinas Medical Center. In 2015, Kearse will begin studying for her Bachelor of Science in Nursing (BSN) degree through UNC Wilmington. She has two children.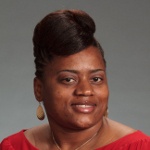 Denise Knox
A single mom of three, Knox graduated from Montreat College with a B.S. in Business Administration and a concentration in Human Resources. She is currently earning an MBA from Montreat. Her three sons have followed her lead. Her oldest is in the Army Reserve, her middle son is studying for a degree in business management at York Technical College, and her youngest is making the A/B Honor Roll in elementary school.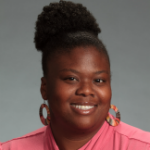 Marquettia Stover
Stover earned a B.S. in Special Education from Winthrop University. She teaches 4th and 5th graders in a special-education class at Clinton Elementary School in Lancaster, South Carolina.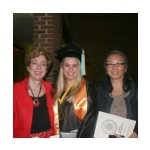 Alison Thornburg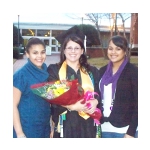 Carrie Johnson Walters
Walters, a mother of two teens, graduated in December 2012 from UNC Charlotte with a B.A. in Communication Studies in Public Advocacy. She is currently working on a J.D. at Charlotte School of Law. The Kannapolis mom was raised in a low-income, single-parent household in government housing and never knew her biological father. She gave birth to her first child during her senior year of high school. Walters works as a paralegal and has volunteered with Guardian ad Litem, the voice for minor children in abuse and neglect court cases. Walters was recently featured in the Independent Tribune.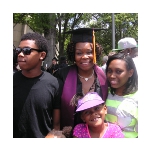 Erica Frazier
Frazier completed a B.S. in Management from the University of Phoenix in 2012. A single mother of a teenager and two younger children, she is earning her degree while working as program director for Above and Beyond Students' after-school program. Frazier tried to pursue a college degree previously while working full-time, but wasn't serious about it until divorce made her look hard at her future. Read more about Frazier in The Charlotte Post . The national magazine American Baby also interviewed Frazier for a story on moms going to college.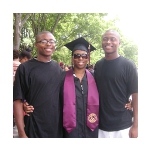 Jamille White
White graduated in 2012 with a B.S. in Business, concentration in management, from the University of Phoenix. She has been an inspiration for her twin sons, Jamal and Jarvaris, both freshmen at Clemson University. Jamal will study engineering; Jarvaris will study architecture. The family lives in Rock Hill, S.C.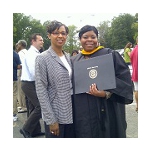 Shantell Kelty
A single mom, Kelty graduated with a B.S. in Business Administration from Pfeiffer University in December 2011. In her application for an Answer scholarship, Kelty wrote, "Returning to college has been my one heart's desire for many years now. Being in the workforce has shown me the importance of a college education. A person can have all the experience needed for a position, but (without) a college degree to support the experience, your resume becomes one of many." Receiving the Answer scholarship allowed her to show her daughter Kaylan that any goal is attainable. Kelty hopes to work for a non-profit organization and to continue her education by earning a master's degree, possibly in organizational leadership. Kelty was featured in the Myers Park Life publication.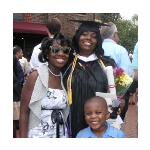 Katrina Mitchell
Mitchell started 2012 with a new job as a language arts teacher at Joseph W. Grier Academy, part of Charlotte-Mecklenburg Schools. She teaches 3rd to 5th grades, with an emphasis on literacy. Mitchell graduated in December 2011 from Belmont Abbey College with a B.A. in Elementary Education, and is attending Lesley University for her masters in Curriculum Instruction: Literacy. Mitchell was featured in the Myers Park Life publication.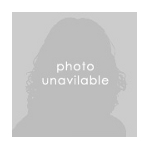 Malaika Grier
Grier graduated from Belmont Abbey College in the summer of 2010 with a B.A. in Accounting.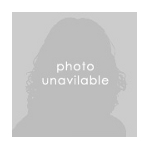 Mellanie Barr
Barr graduated from Cabarrus College of Health Sciences in 2009 with an associate's degree in nursing.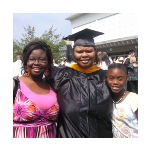 Anita Cherry
Cherry wanted to earn a college degree as a way to a better life for herself and her child, but couldn't afford it because of medical expenses. With Answer's help, she graduated in December 2009 from Pfeiffer University with a B.S. in business administration. She's now working full-time as an accountant. Cherry has served for two years as a mentor in Answer's Mentors for Mom program. She has one daughter, Brianna, who is in 11th grade.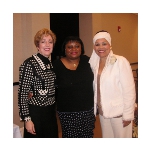 Marie Dingle
Dingle graduated from UNC Charlotte in May 2009, earning a Bachelor of Social Work. She didn't stop there. In December 2011, she graduated from UNC Greensboro with a Master of Library and Information Studies degree. She works as a media specialist at Whitewater Middle School in Charlotte and has two children, Jerrod and Stephanie. Dingle is also a mentor in Answer's Mentors for Moms program. She was recently featured in the UNC Charlotte Alumni Magazine and SouthPark Magazine.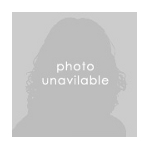 Jennifer Holbrook
Holbrook graduated in December 2008 from Winthrop University, majoring in Communication Disorders/Speech Language Pathology. She was on the Dean's List with a 3.95 GPA.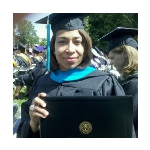 Tonya Nichole Faulkner
Faulkner sought a college degree to break the cycle of poverty in her family. In 2008, she graduated magna cum laude from Queens University of Charlotte with a B.A. in Human and Community Services. She later earned a Master of Arts in Nonprofit Management from High Point University. Faulker is employed at Rockingham Community College in the Trio program, a federally funded program that assists low-income and first-generation college students. Faulkner's daughter is currently a junior at Queens with a 3.4 GPA, and Faulkner's son is in middle school. The Saturday Evening Post featured Faulkner in a profile of the Answer Scholarship.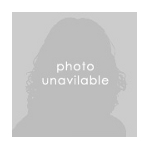 Sharon Laney
Laney graduated summa cum laude from Montreat College in May 2007 with a degree in business management. She works in a family business. Her oldest daughter currently attends Central Piedmont Community College, while her youngest daughter is in high school.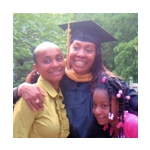 Sonya Muhammad
"Sonya Muhammad was trying to raise two daughters on her own, earn her degree at UNC Charlotte, and work a third-shift job when she was awarded the Answer Scholarship." That's how Pride Magazine described Muhammad, who graduated from UNC Charlotte in 2007 with a bachelors in social work and in June 2009 with a master's in social work. She is a mental health therapist with Britton and Crump., Inc., and is considering whether to pursue a Ph.D. in her field. Muhammad also serves on the Answer selection committee and is a mentor to new Answer Scholarship recipients. Her daughter Tori is in her third year of college; her younger daughter, Arafah, is in high school.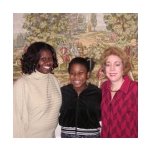 Litasha White
White was one of Answer's inaugural recipients in December 2006. She bought her first home in 2007 after graduating from Pfeiffer University. White has returned to Pfeiffer and is currently studying for a joint MBA/MHA (Master of Health Administration). She works as chief operating officer for Second Chances and a Chance for Change. Her daughter, Aja, is an 11th grade honors student who hopes to attend Wingate University or UNC Greensboro.