Minimum Eligibility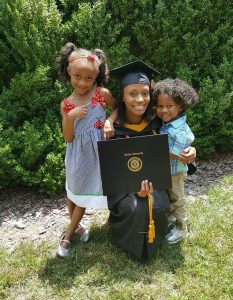 Scholarship applicants must meet the following criteria (Note: Applicants who have already earned a 4-year degree are not eligible to apply.)
Be a "nontraditional" female student age 25 or older at the time of the application deadline. Applicants may be married or single.
Be the primary caregiver to at least one school-age child (enrolled in grades Pre-Kindergarten through 12). This includes natural born, legally adopted children or children for whom legal guardianship has been granted. The children must live in the home with the applicant.
Be U.S. citizens, including foreign-born U.S. citizens, and legal residents of one of the following counties: Mecklenburg, Cabarrus, Gaston, Iredell, Lincoln, Stanly or Union in North Carolina or Lancaster or York in South Carolina.
Be enrolled or accepted as a full-time, degree-seeking student at an accredited institution in the Mecklenburg and surrounding counties, seeking a first-time bachelor's degree in any subject, a two-year nursing degree, a two-year degree in CPCC's Health Careers Program or Information Technology. Recipients are not eligible to receive scholarship monies if attending a for-profit school.
ANSWER has a stellar graduation rate because all scholarship recipients are provided with a mentor for the duration of the scholarship and are required to participate in our Mentors for Mom program. This includes attendance at the Mentors for Mom meetings held one Saturday a month during the months of September, October, November, January, February, March and April. These meetings include workshops on professional and career development. Learn more about the program at Mentors for Mom .
Recipients must maintain satisfactory academic performance (a GPA of 2.5 or above) and meet the following mentoring requirements:
Have contact (phone, email, or an in person visit) once a month with an assigned mentor.
Attend the Mentors for Moms meetings and also an annual luncheon in May honoring new graduates.
For questions about The ANSWER Scholarship Endowment or the Mentors for Mom program, please contact the founder, Susan Andersen, at info@answerscholarship.org or 704-544-1988.
Application Procedure
Visit https://fftcscholarships.communityforce.com/Funds/Search.aspx to search for The ANSWER Endowment under "Search for Scholarship by Keyword."
Create a new account.
Complete the online application.
Review the Request Section of the application:

Current-Year Free Application for Federal Student Aid application (FAFSA): Visit www.fafsa.ed.gov and submit a pdf version of your SAR.
Letters of Recommendation: Before submitting your application, please provide email addresses for three (3) references.
Transcript: You will need to provide a school official's email address so they can attach your official transcript to your application.
Selection Criteria
The Scholarship Committee will consider the following when selecting scholarship recipients:
Financial need as determined by the costs of college attendance compared with an applicant's household income and other financial factors.
Demonstrated potential for academic success.
Preference will be given to single parents.

Availability and commitment to participate in ANSWER's Mentors for Mom program.
If you are selected as an ANSWER recipient, you will be matched with one of our talented mentors before you begin your academic year. Our mentors know what it means to overcome challenges and earn a degree. Your mentor will be available as a sounding board throughout the year and will help support your efforts in obtaining an education. You will be required to have contact (phone, email, or an in-person visit) once a month with your assigned mentor.
In addition, each month from September – April you will participate in a 3-hour "Mentors for Mom" educational program. These programs are typically held on a Saturday afternoon, where you will learn from a variety of professionals about any number of topics, such as health, careers, and parenting. This program, and your commitment to participate in it, is what makes ANSWER scholarship recipients so successful. Participation in the Mentors for Mom monthly educational programs is required of all ANSWER scholarship recipients.
5. Good moral character.
An applicant (including new and renewal) for this scholarship must also show that she has been, and continues to be, a person of good moral character. In general, the applicant must demonstrate this during the five-year period immediately preceding her application for the scholarship and up to the time of receipt of the scholarship. In addition, to remain active in ANSWER's programming, the scholarship recipient must continue to conduct herself in such a way as to represent ANSWER and herself in only the most positive manner. Conduct deemed detrimental to the image of ANSWER will be grounds for dismissal from the program. The recipient shall not commit any act that could materially injure ASNWER's reputation including (but not limited to) an act of dishonesty, theft or misappropriation of funds or property, moral turpitude, insubordination, or any act injuring, abusing, or endangering others.
Please also note:
All finalists for the scholarship will be required to attend a personal interview with the Scholarship Committee.

If you are selected as a scholarship recipient, you must attend an annual ANSWER luncheon for recipients and donors in the spring, or meet with the director before December 31 of the current award year.
Scholarship Awards
Scholarship award amounts will vary annually at the discretion of the Scholarship Committee. Funds are paid directly to the recipient's school and are designated for tuition, fees, books and supplies. Scholarships are awarded for one year only. Renewal scholarships are awarded if the recipient maintains satisfactory performance and meets the requirements outlined in our Selection Criteria.